Sandra Aris Pants Encourage Movement in Babies, Toddlers
Boating parents are always excited to have their little one join them on the waters, but for babies and toddlers that are just learning to walk or crawl, stable ground is already hard enough to maneuver on, let alone on choppy waters. Stumbles and falls happen often for younger kids on boats and can incur some serious injuries. But instead of parents keeping young ones from experiencing the thrill of boating, they can protect them from bumps and bruises.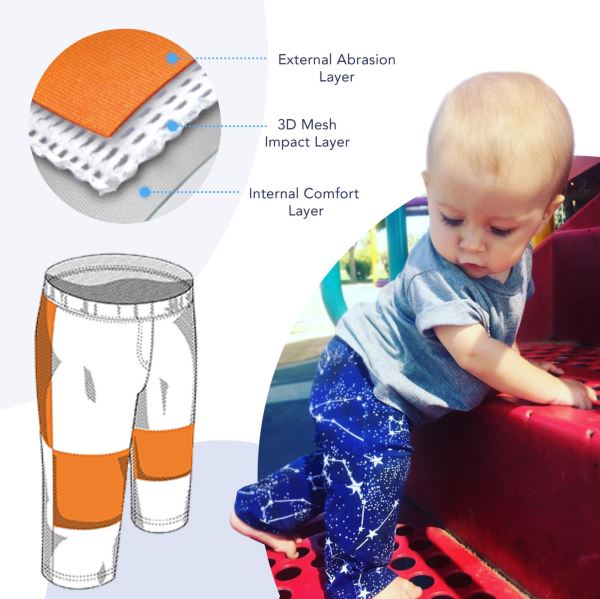 When learning to walk, most kids stumble and fall from time to time, but some toddlers fall more than others. Falling is a normal part of learning to walk and getting used to balancing body weight, but toddlers can become discouraged and not want to get back up again or get seriously injured while falling. Following energetic toddlers around as they run and explore can be tiresome and unpractical for parents, but the fear of having them get hurt or becoming unenthusiastic about walking can be worse than trying to keep up. Rather than feeling like bubble wrap and constant hovering are the only options, Sandra Aris created protective pants for kids that encourage exploration and keep injuries from holding them back.
"I didn't want to be a helicopter mom that controlled every aspect of my kids' lives and didn't let them explore or play," said Sandra Aris, Founder and CEO. "I created these pants to give parents peace of mind while their toddlers were learning to explore, while still encouraging kids to get back up after falling and try again."
The pants are made with protective 3D padded technology in the butt and knees inspired by the protective materials used in motorbike and ski apparel, jackets, gloves and helmets. The design absorbs the shock from falls and gives toddlers a boost to get back up. Even after hundreds of falls, the material does not fatigue, giving it the ability to last for years (and through multiple kids). The padded layer of mesh is fully breathable, allowing little ones to be comfortable and play all day long without having moisture or heat build-up. Lead-free, lightweight, moisture-wicking fabric that provides babies and toddlers with the protection that need without getting in the way of their busy day.
Sandra Aris pants are available for babies and toddlers from as young as six months to three years old. There are two fun, stylish designs – "Super Star" features constellations and different stars within the solar system and "La Vie En Rose" has colorful, kid-approved pink flamingos surrounded by plants. Each pair is made with machine-washable, natural cotton fabric that is both durable and recyclable.
About Sandra Aris
Sandra Aris, mom and entrepreneur, creates protective clothing for children six months to three years old to help encourage confidence and resilience while developing crucial skills such as walking and running. After years working for and designing clothing at motor-cross and athletic gear companies, Sandra wanted to use her expertise to create a product that can stop parents from becoming overprotective and provide kids with the comfort they need to explore. Although you can't bubble-wrap kids while they learn to walk, you can cushion the fall.
First published: